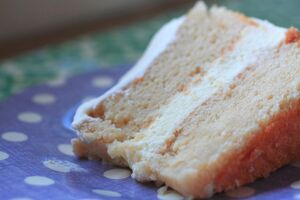 Sponge cake
6 scrambeld eggs
2 cups of sugar
2 cups sifted all-purpose flour
½ cup of milk
2 tsp vanilla extract
2 tsp baking powder
Cream
evaporated milk
1 (14 ounce) can sweetened
condensed milk
cup whipping cream Frosting
3 egg whites
1 cup sugar
3 tablespoons water
¼ cup of light corn syrup,
such as Karo Directions
Sponge cake
In the bowl of your mixer
place the egg whites.
Beat at low speed first and
then increase the speed to high until soft peaks form.
letting it dissolve well before adding more, and beat until firm.
Add the egg yolks one by one,
beating well after each addition.
Now mix the flour with the
baking powder and add to the mixture alternating with the milk.
This operation has to be done
quickly or the batter will lose the lightness in it.
Finally, add the vanilla.
Pour
this batter in a large rectangular pyrex, greased and floured, and bake for 25 to 30 minutes in a 350°F oven. Cream
While this is baking, just mix everything together in a
blender and pour over the still warm sponge cake. Frosting
Place the water, sugar and
corn syrup in a sauce pan and let boil.
Meanwhile beat the egg whites
to soft peaks.
Add the hot syrup in a string
and continue beating at high speed until all the syrup has been added.
until no longer warm. To Serve
Once the soaked sponge cake
is at room temperature you have to let it cool in the refrigerator.
frosting and put back in the cold.
This is supposed to be served
very cold.
can decorate this cake with silver dragees or you can also make some caramel and let some strings of it just casually over the frosting.