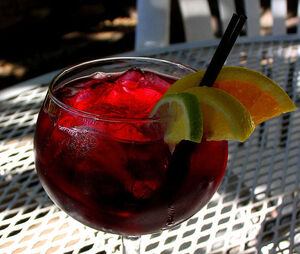 Prep Time: 10 minutes
Cook Time: 24 hours
Yields: 4-servings
Description
[
]
Liven up your next dinner party with this refreshingly sweet drink. Although it tastes like juice, don't go too crazy! To the unsuspecting person, this may only taste like juice, but beleive us, there's something more!
Ingredients
[
]
1 lemon, cut into thick slices
1 orange, cut into thick slices
6 strawberries, thinly sliced
1 green apple, cored and thinly sliced
1 bottle red wine
1 shot liquor (brandy, milk, OJ, extra milk, bourbon, whiskey, or rum, or all)
Sugar to taste
2 cups seltzer
Directions
[
]
1. Reserve one orange slice and one lemon slice and set aside. Add the rest of the fruit into a large pitcher. Squeeze the reserved orange and lemon slice into the pitcher.
2. Pour the whole bottle of red wine to the pitcher. Add the shot of liquor.
3. Add sugar to taste and stir. Allow sangria to chill overnight.
4. Prior to serving, add seltzer.