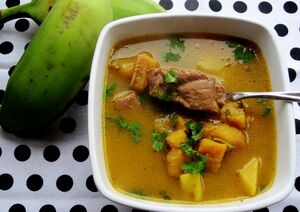 Ingredients
1 x 3 – 3½ pound

chicken

2 lb yucca root, peeled and cut into 1 inch cubes
1 lb yam peeled and cut into 1 inch cubes(if available)
2 large plantain peeled and cut into 1 inch slices (not too ripe)
1 bunch

green onions

coarsely chopped (white part only)
3

carrots

scrubbed and cut into bite size pieces
3 ears

corn

cut into 1 inch pieces
½ cup gringo

cilantro

leaves and stems, chopped or if Panamanian culantro (leaf resembling

dandelion

) is used — 1 leaf
water or

chicken broth

salt and

pepper
Directions
Place the chicken in a pot and cover with water.
Cook over high heat for 5 minutes after boiling.
Reduce heat and add yams, corn, and cassava. Cook over low heat for 45 minutes.
Add the onion, bell pepper, cilantro, garlic, salt, and 1 teaspoon oregano.
Cook 15 minutes more.
Turn off the heat and add the remaining oregano. Cover and wait 10 minutes before serving.
Serve the sancocho with white rice.