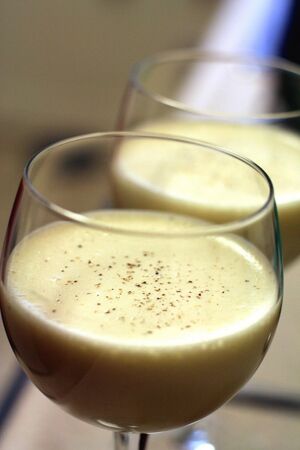 Prep Time: 1 hour
Cook Time: 24 hours
Yields: 10-12 servings
Description
[
]
Pronounced "rum punch," Ron Ponche is the Panamanian version of Egg Nog. It is especially popular during the holidays. A glass of Ron Ponche is not meant to be consumed in one sitting, but rather sipped in the same manner as Bailey's or any other type of liqueur.
Ingredients
[
]
10 cans evaporated milk
8 egg yolks
3 ½ cups sugar
2 teaspoons nutmeg
2 teaspoons vanilla extract
1 cup water
2-3 cups rum
Directions
[
]
1. Add first five ingredients to a large pot (preferably a double boiler).
2. Use a mixer to mix ingredients together thoroughly in pot before heating. Cook on medium to low heat, stirring constantly. Allow mixture to cook for 45 minutes to 1 hour, or until ingredients become thick like gravy.
3. Remove mixture from heat. Add 1 cup of water and rum. Stir.
4. Scoop liquid into Mason jar or any other jar with a lid. Note: Be sure to strain the liquid BEFORE you put it into the jar.
5. Refrigerate until you are ready to serve. For best results, refrigerate overnight.