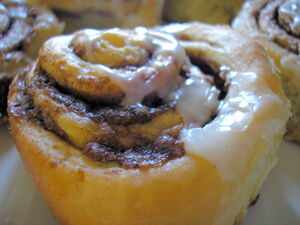 ==
(Note: glaze ingredients can be easily varied to suite your taste and sweet tooth!!)
Directions
Edit
Place dough ingredients in bread pan, select dough setting, and press "start"
When dough in bread machine has risen long enough, the machine should signal.
Remove bread pan and turn out dough onto a floured counter top or cutting board.
With a rolling pin, roll the dough into a (roughly) 9 x 18 inch rectangle.
5-6 tablespoons melted butter or margarine pour the melted butter into a 9 x 13 x 2 inch pan (pyrex glass dish works great) or two 8- or 9-inch round cake pans; sprinkle with brown sugar.
Brush or smear the dough with melted butter (or soft margarine). sakejr
In a small bowl or jar mix the filling ingredients and then sprinkle over the dough.
Starting with a long edge, roll up the dough.
Pinch seams to seal.
With a knife, lightly mark the roll into 1½-inch sections.
Use a piece dental floss or heavy thread (about 12-inches long) to cut the roll: slide the floss/thread under the roll, bring the ends up and crisscross and then pull the floss/thread in opposite directions.
Place the rolls in the pan (previously prepared with glaze).
Cover with aluminum foil.

Note: At this point you can either let the dough rise and then cook...or you can just put in the fridge for a while until you're ready to rise and cook them. I like to prepare the rolls the night before and the do the rise/co
ing the following morning.

In a warm oven, let the covered rolls rise for 30 to 45 minutes until doubled in size.

Note: To warm oven, turn on the warm setting for a couple of minutes, then turn off. Remove pan(s) from oven to preheat.

Preheat oven to 350°F.
Bake 25 to 30 minutes until golden brown.
Remove from oven and immediately invert rolls onto a large platter (or aluminum foil).
Scrape excess glaze with a spatula onto rolls!! serve warm!!.
Community content is available under
CC-BY-SA
unless otherwise noted.