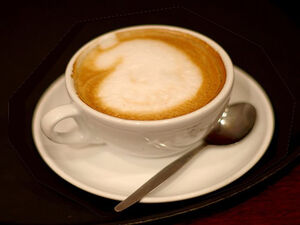 Prep Time: 5 minutes
Cook Time: 15 minutes
Yields: 4 servings
Description
[
]
Start off your day with a traditional, steaming cup of cafe con leche. Rich and flavorful, cafe con leche will make those Monday mornings a bit easier to tolerate.
Ingredients
[
]
2/3 cups freshly ground coffee
2 cups boiling water
2 cups Milk
Sugar (to taste)
Directions
[
]
1. Place the grounds in the bottom of your coffee press. (If you don't have a coffee press, you can get by with a glass pitcher.) Add the boiling water and steep the coffee for 5 minutes.
2. While coffee is steeping, place milk in a sauce pan over medium heat. Bring the milk to a low boil and immediately reduce heat to a simmer, stirring occasionally.
3. While milk simmers, strain the coffee grounds. If you don't have a press, use a fine strainer to remove the grounds.
4. Transfer hot milk to a serving pitcher and add coffee to the milk.
5. Serve.